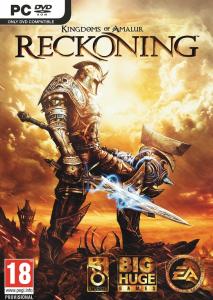 Finalmente chegou para PC!
O título foi elaborado pelo mesmo criador dos jogos Morrowind e Oblivion, da série The Elder Scrolls, Ken Rolston. A direção artística ficou para Todd McFarlane, criador dos quadrinhos Spawn. Finalmente, a história foi deixada aos cuidados de R. A. Salvatore, escritor de obras da série Forgotten Realms – mundo onde o RPG de mesa Dungeons & Dragons é ambientado.
O sistema de combate é outro destaque em Kingdoms of Amalur: Reckoning. Nele, você muda suas habilidades conforme as armas equipadas e pode aprender técnicas de diferentes classes, formando uma profissão híbrida. Além disso, cartas de destino adquiridas ao longo do jogo servem para garantir bônus passivos nas habilidades do jogador, permitindo a criação de um estilo de luta totalmente personalizado.
Ficha Técnica:
Categoria: Action role-playing
Fabricante: 38 Studios / Big Huge Games
Publicadora: 38 Studios / Eletronic Arts
Sistema Operacional: 2000/XP/Vista/7
Idioma(s): Inglês
Ano de Lançamento: 2012
Site oficial:
http://reckoning.amalur.com/
Quantidade de DVD(s):1
Tamanho: 7,4GB
Configuração Mínima:
CPU: Intel Core2 Duo rodando em 2.2GHz or melhor; AMD Athlon 64 X2 5000+ rodando em 2.6GHz ou melhor
RAM: 2GB para Vista/7 (1GB para XP)
HD: 10.5 GB de espaço livre
GPU: NVIDIA GeForce 8800 GT 512MB ou ATI Radeon HD3650 512MB ou melhor; Pixel Shader 3.0; Resolução Mínima suportada é 1280x720
DirectX: 9.0c Compatível
Instalação:
1. Monte a imagem
2. Procure e extraia Reckoning.zip para uma pasta
3. Copie o crack da imagem montada para a pasta criada no item 2.
5. Instale directx e vcredist do jogo
Dúvidas, sugestões ou pedidos de jogos:
ribeiro.rafaeldeoliveira@gmail.com
DOWNLOAD TORRENT